Hello,
I have had some strange stories in my life which led me to a "Deal with God". It is about how I got some money and what I am supposed to do with it. I have divided it into the followings parts:
• Preamble
• The Forest
• The Transformation Box
• Steemit
• The neighbour of my forest
I want to tell them to you in the next days. Today I start with:
Deal with God – Preamble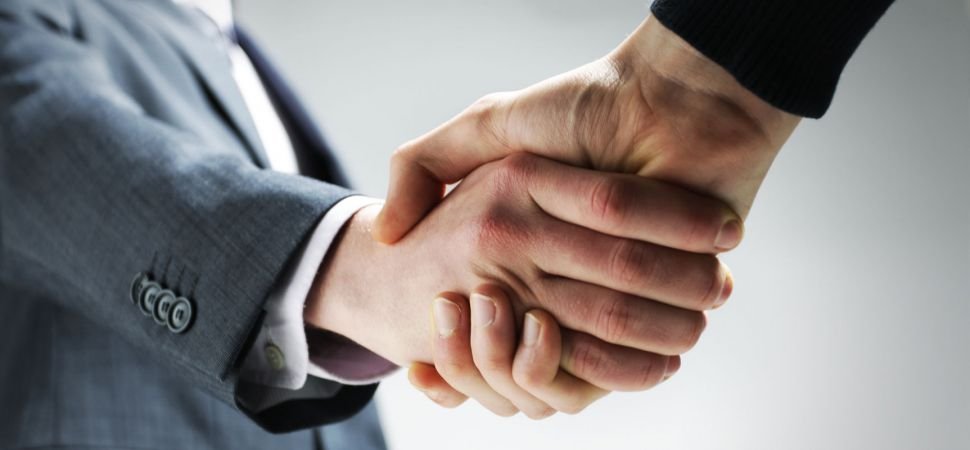 Do you believe in god? Do you believe, that he is with you and interacts in your life?
I still have my problems with this.
I was educated secularly and I studied physics. I can imagine a world without god.
But the world (what is that at all? – This will be another story) is not only physics, it is much more.
In my youth I had a lot of discussions with my christian friends and most of them ended frustrated for them. But they never gave up, because they are convinced that Jesus is alive and loves you.
I can remember one good argument:
Imagine live is a horse race and you have to bet on one horse. Even if you don't bet, you bet. No choice is also a choice.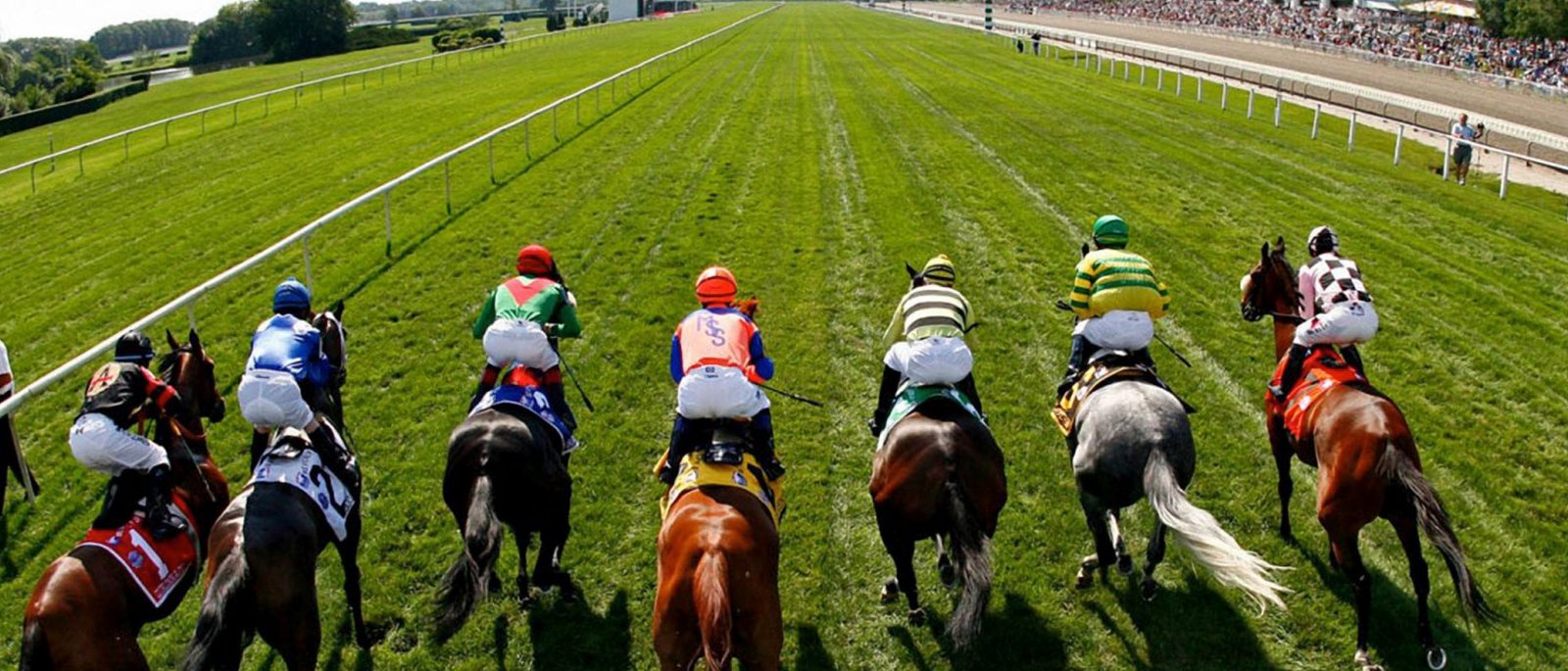 The names of the horses are: Capitalism, Materialism, Determinism, Islamism, Christianity, Jewry, Nihilism, Escapism, …
If you don't choose, then you take automatically Nihilism. In my opinion it is one of the slowest and most depressing horses in the race.
So it is a very fundamental question: What is the deepest base of your whole life?
I had no answer.
When my first daughter started to ask her first questions I knew I had to decide. I had to find an answer to that question, and so I decided to set my bet on Christianity. I prayed to Jesus and since then I go regularly to church. It's not always convincing, but sometimes I have the feeling, God is present.
But how do I know, that this is real and not a fake religion. I am convinced, that there is a lot of scams. People cannot endure being alone in the universe so they create their own gods.
There is no prove. Even these stories here are no prove.
But – there have been a lot of strange coincidences in my life. And this here is a narrative about some of them, which ended in a "Deal with God". These stories are more or less "daily routine", but in combination they are for me very strange. And they are true, I have enough witnesses.
It started with a dream on 16.6.2013…
See more in Part 2: Deal with God – The Forest
So stay tuned…
Regards, Achim
Hello,
This is part two of my stories about how I got some money and what I am supposed to do with it.
See also the previous part and the other parts which are going to follow in the next days:
Deal with God – The Forest (This story here)
Deal with God – The Transformation Box
Deal With God – Steemit
Deal With God – The Neighbour of my Forest
Deal with God – The Forest
When does a story begin? I have talked about one story: Deal with God – Preamble.
I could also talk about the Euro-crisis, the fear of war or at least the fear of losing my possessions. I could talk about my home, which is CO2 neutral and needs only sun or wood to get heated…
But let us start with 16.6.2013.
In this night I had a strange dream, which was so incentive, that I could not sleep again, after I have had it. I dreamt about being outside with my father and searching for wood for my oven. We found a pile of wood. There was a man next to it and we started to discuss with him. He said, that we cannot have this pile, but he could suggest a deal with us. That was when I awoke. I lay there and could not stop thinking about, what kind of deal he could have meant.
The day after I was tired, of course, but I had a very intensive discussion with one of my colleagues. He was preaching the end of the world. We were at the peak of the Euro crises. He said, he wanted to bring his money out of Europe. But for me, I suddenly had my own solution: "I want to have a forest!"
This idea was not new in my head. I had searched several times for a small plot of land with some trees. But all I found was either far away or much too expensive, or both.
That day I tried again my search and at once I found it: A small forest, next to my home, affordable and with a parking place in front of it. I couldn't believe it.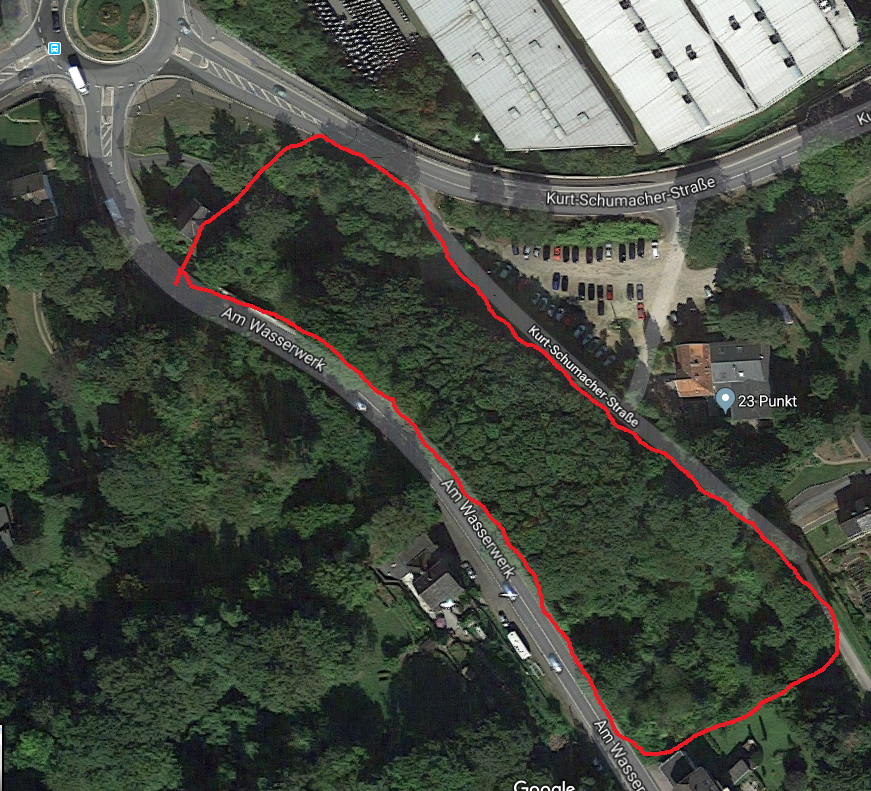 I talked with my wife and it took me a lot of convincing energy. My main argument was: We only shift the money and can sell the forest in bad times. And we only have spendings (tax and insurance) that is less than we have for buying wood – so it is a win for us.
At least we got the forest. We bought it on. 5.7.2013.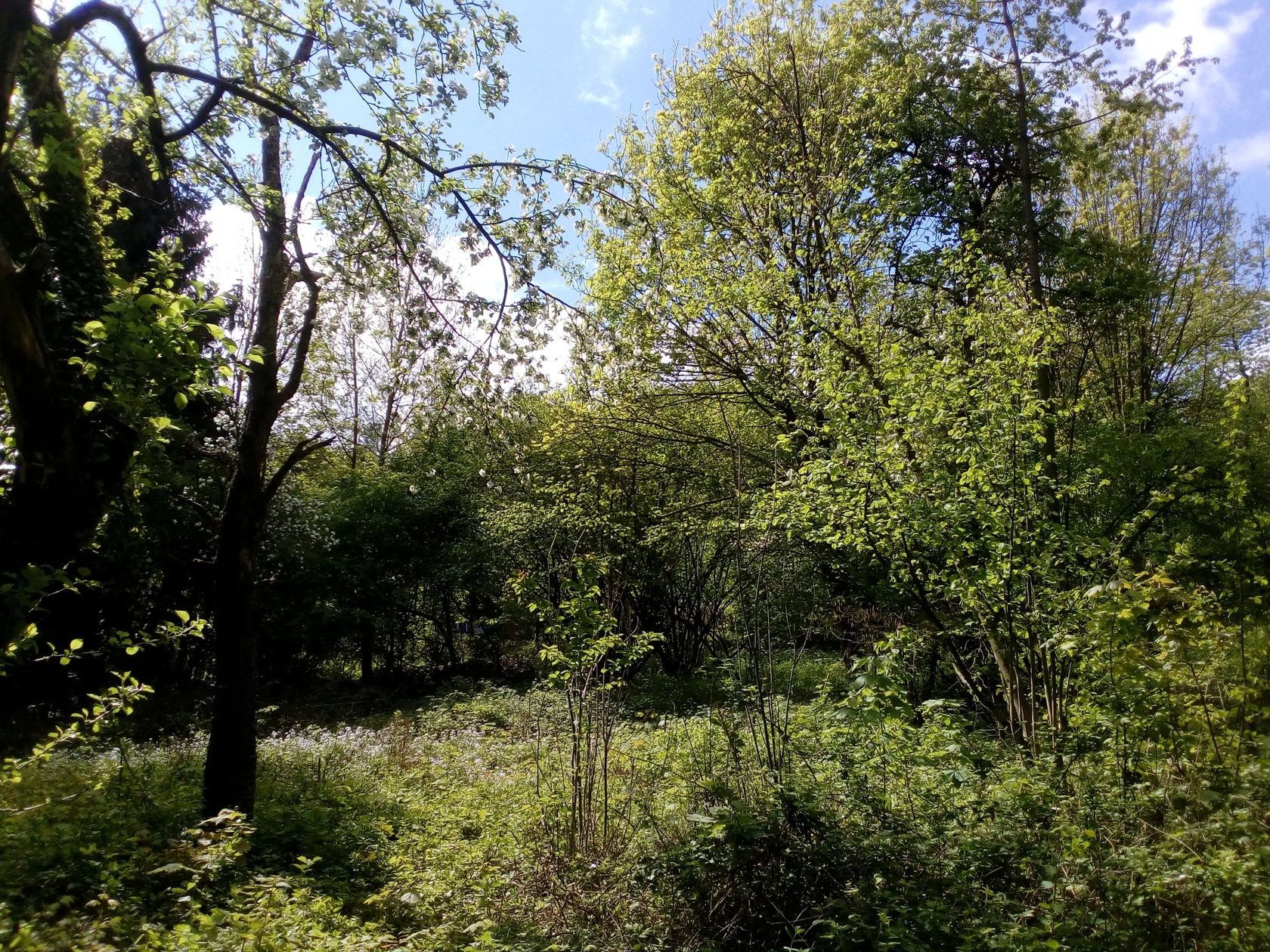 But, the contract was just signed, the seller offered me, that the tax might be higher than announced.
A few days later he showed me his bills. If I had known that, I hadn't bought the forest. Now it was a losing deal for us. I was disappointed.
On 7.7.2013 I had another strange dream in which I worked through my papers.
So than I started some research and called to a lot of people from the city. I found out, that the tax was set too high and I could convince them to lower it.
The outcome was, that I now have to pay only 6 € per year instead of 256 €.
This was not only just a great rejoicing day (my family got the promised ice), but also the beginning of another thought:
"Is it possible, that god wants me to do something with the forest?"
I said in a prayer to god: "If I get with the forest my spending back, that I have invested into it, then you will get 90% from each further incomings from the forest and I only take the 10%". I told this deal to my friend Daniel Damrau on Sylvester evening 2013/2014.
Tomorrow let's see in "Deal with God – The Transformatin Box" what happened next.
Regards, Achim
This is part three of my stories about some strange coincidents which led me to some money – and what I'm supposed to do with it.
See also:
My "Deal with God" – The Transformation Box (this story here)
My "Deal With God" – Steemit (coming soon)
My "Deal With God" – The Neighbour of my Forest (coming soon)
Deal with God – The Transformation Box
In Germany it is halve of the year so cold, that one have to heat his house. Usually it is done by fossil energy. The costs of it are roundabout 2000 € (these are ca. 1000 leaves of bread) per year.
I have changed my heating system 11 years ago because of the costs and because of the CO2-pollution. Now my house has solar heating and an oven in our livingroom, which also heats our water-system.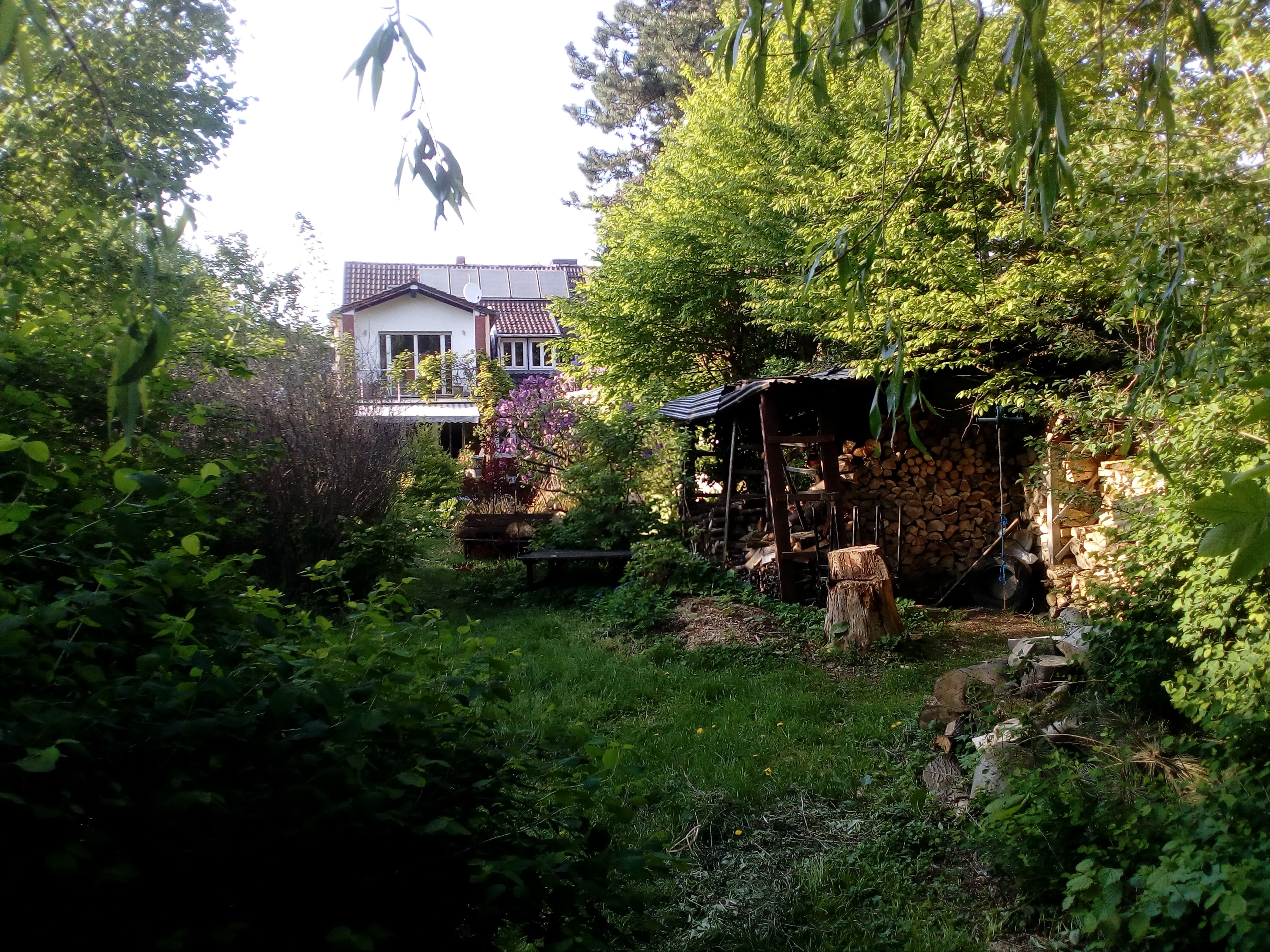 With the heating system and my forest I have reduced my costs (but increased my work) to 60 €/year (for tax and insurance). I had a great joy so far with our new forest. I even found some old appletrees in it.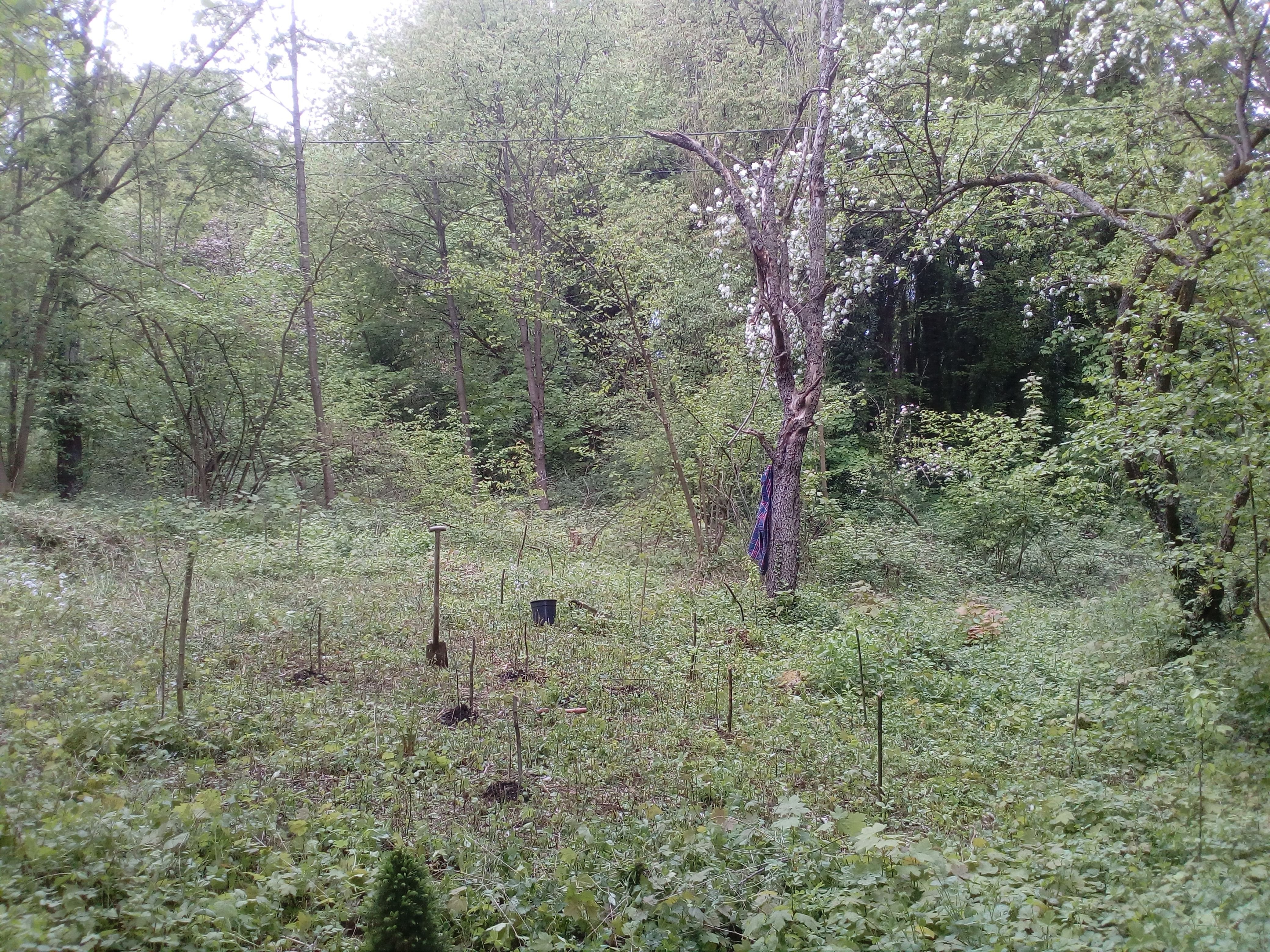 I can chop enough wood for our house, and the forest is big enough to carry this.
In spring 2015 I got a call from the city next to the forest. I was asked, If I would sell a small piece of my land (25 square meters), so that they can build a transformer box on it. At once I was reminded at my "deal with god" and at the same time I had the feeling in my heart: "The price is as high as your 60 €/anno". So this was my offer: "I will lease it for 70 € / year." (10 € to debate).
But this was not what they wanted. They wanted to buy the ground. They offered me some money paid once. I didn't agree. They gave me some weeks time to think and told me, that my plot is not the only place, where they could build their box. So it was a poker game.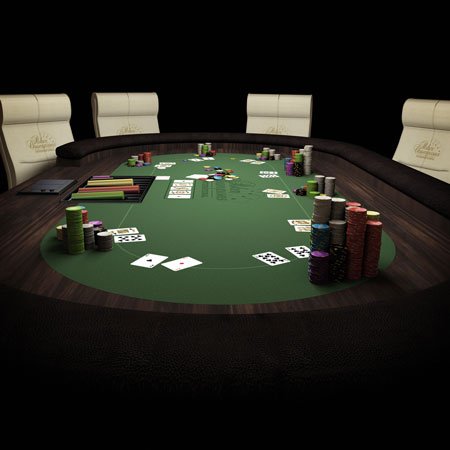 We had several calls and meetings. They doubled their prize, but I refused. In this moment I was sure, that I will get my prize. This was a strange feeling. I really trusted in God. After two month they even doubled their prize a second time. That was the point where I agreed. I took the money and bought stocks from it. The dividend from this is roundabout 60 €/year.
Isn't that great???
Now the agreement with god started to begin. He brought in a part of it now.
Let's see what happened after this in the next part 'My "Deal With God" – Steemit' (coming soon)
Regards, Achim
This is part four of my stories about some strange coincidents which led me to some money – and what I'm supposed to do with it.
See also the previous parts and the last part which is going to follow tomorrow:
My "Deal with God" – Preamble
My "Deal with God" – The Forest
My "Deal with God" – The Transformation Box
My "Deal With God" – Steemit (this story here)
My "Deal With God" – The Neighbour of my Forest (tomorrow)
My "Deal with God" – Steemit
In Dezember 2017 everyone was talking about Bitcoin. I am an IT-Administrator, but I had no clue about blockchain and this stuff. So a wish grow in my head: "Buy a krypto-kitty!"
I know, sometimes I have strange wishes. But this one had a good reason. I wanted to practice blockchain. If I put 100 € into that game, then I am eager enough to understand it's rules. So I managed to buy 2 kitties and I generated one: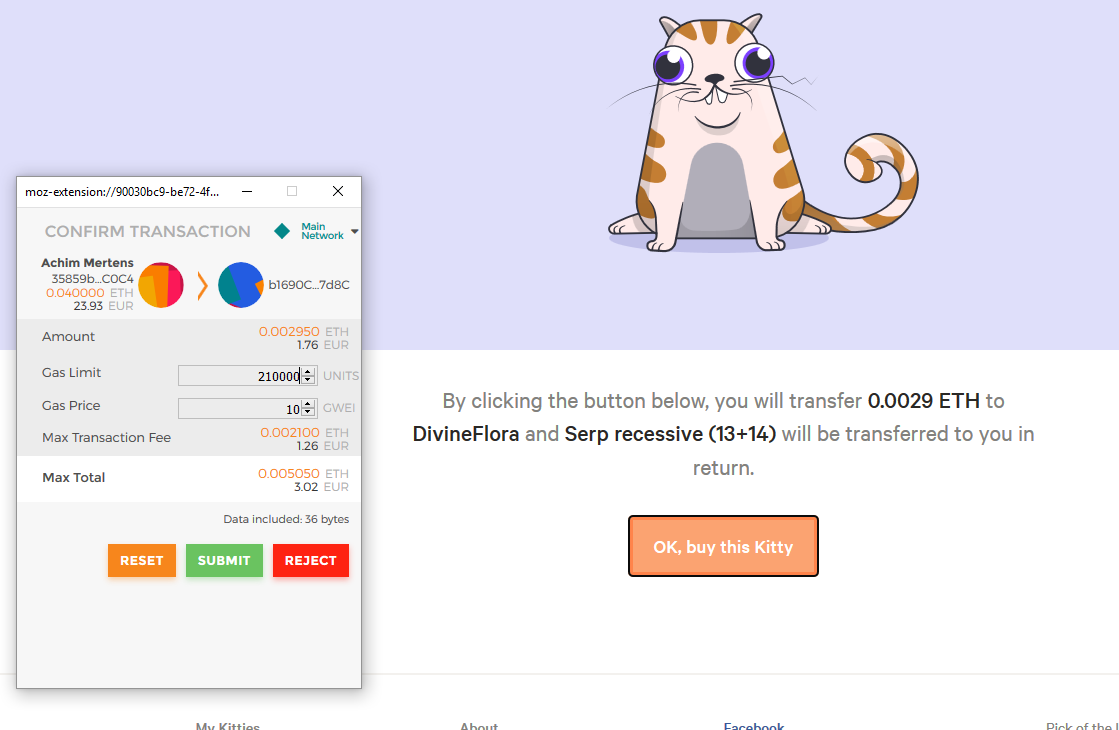 But now I was fixed to that stuff. The price of Bitcoin, Etherium, IOTA,… raised day by day. I got fomo (fear of missing out). I started to understand the technology. I even bought a book and read it in a few days. But I had no money to invest. And then, tchaka, I remembered my "Deal with God".
Is it possible, that He wants me to use the money, that I got from the transformation-box and that is in the stocks now, to invest in crypto-money?
There is no "yes" falling from the sky. But a permant idea, a wish that grows, to do it. There was no "Veto" from my consience. And again it was hard to convince my wife, but at the end she agreed.
So I sold my stocks (with some profit) and bought Ether, IOTA and some altcoins from it, but no Bitcoin, because of the intolerable energy-costs.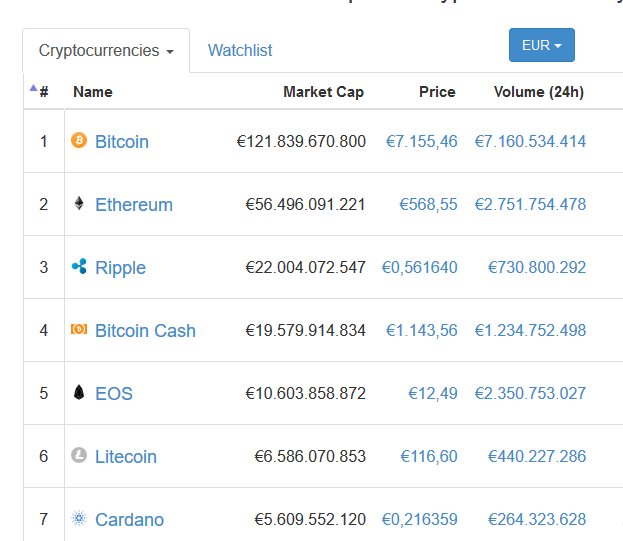 I heard podcasts about the different coins and so I came to steem and the social media plattform steemit.com. I was addicted to it since beginning. I registered, but my success in earning money with it was very low. In the first month I got roundabout 1 SBD.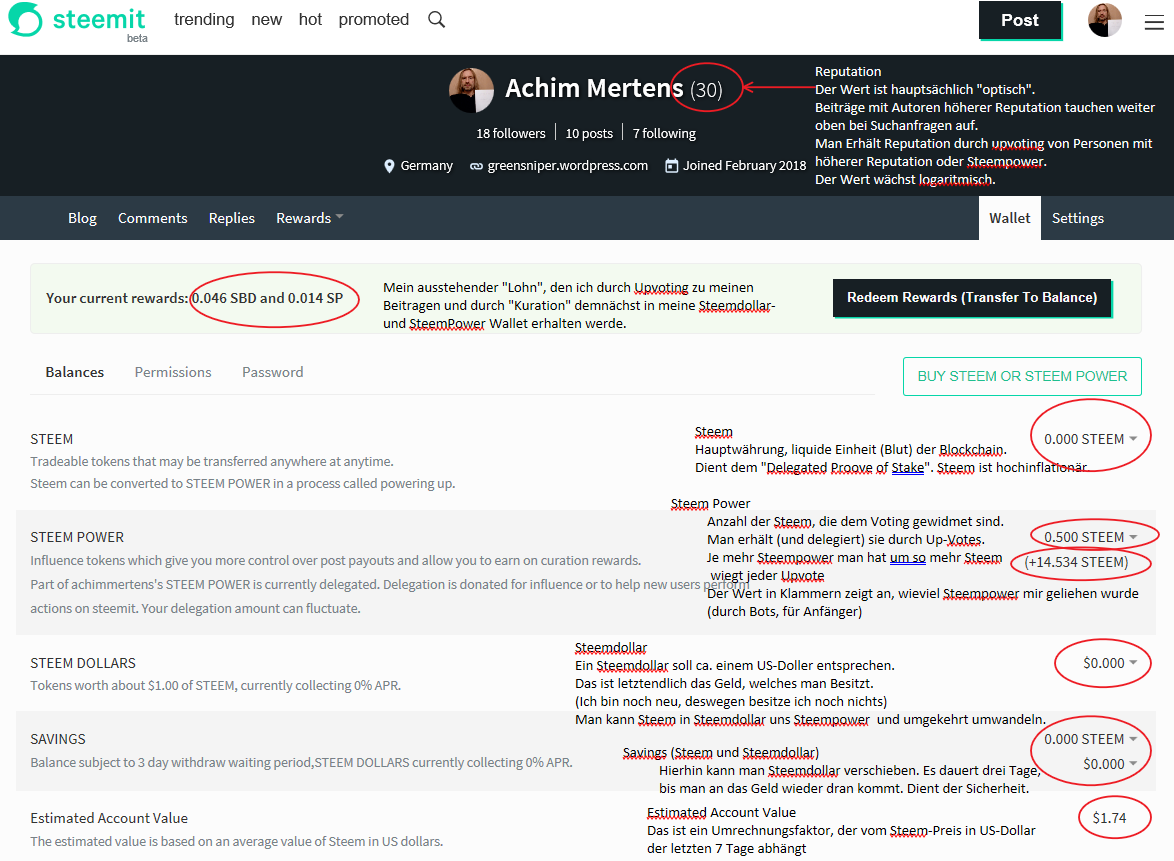 But I didn't give up.
In march 2018 my family and I wanted to visit my daughter Ayleen (@aymertens), which is working in Uganda at "Vision for Africa", a charity organisation. So I put both together: Steemit.com and collectiong information about Uganda.
I found some very interesting people (@jaraumoses, @tesaganewton) and we startet to communicate on steemit. When I said, that I wanted to promote Steemit in "Vision for Africa", @Jaraumoses offered to visit me there.
This is really a great story and you can read in his and my timeline how it went on in more detail.
On 4/10/2018 @Jaraumoses, @Yohan2on and I sat in "Vision for Africa" in Mukono/Uganda. We had good discussions and some ideas how to make steemit great in their country. We created an agreement.
See (Must-read:Great Partnership Achieved in Promoting Steemit in Uganda Achieved Between German Steemian and Team Uganda) or here (Agreement with Jarau Moses and Yohan Onyeli V1.0)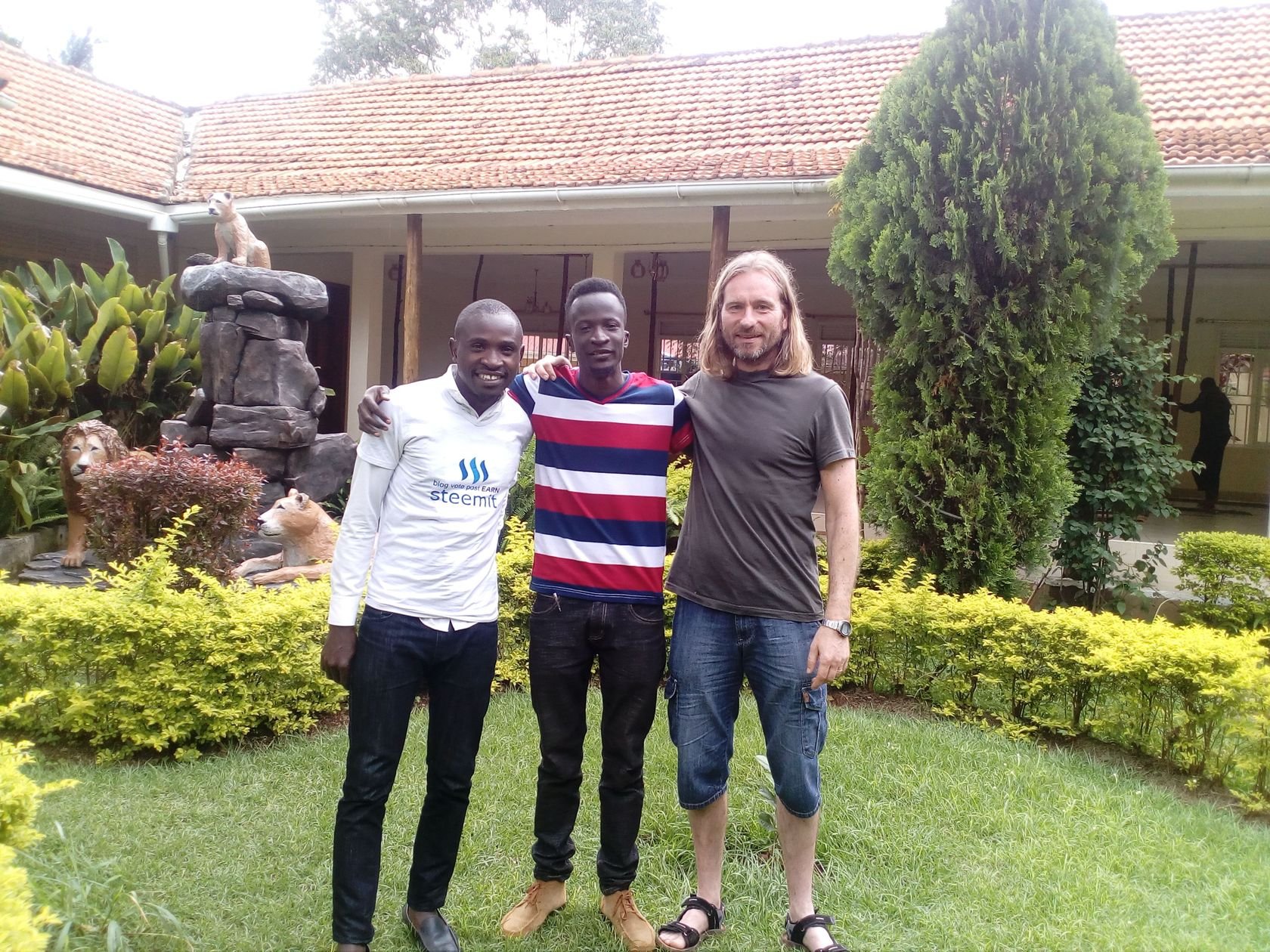 I bought a Steemit-T-Shirt with real SBD.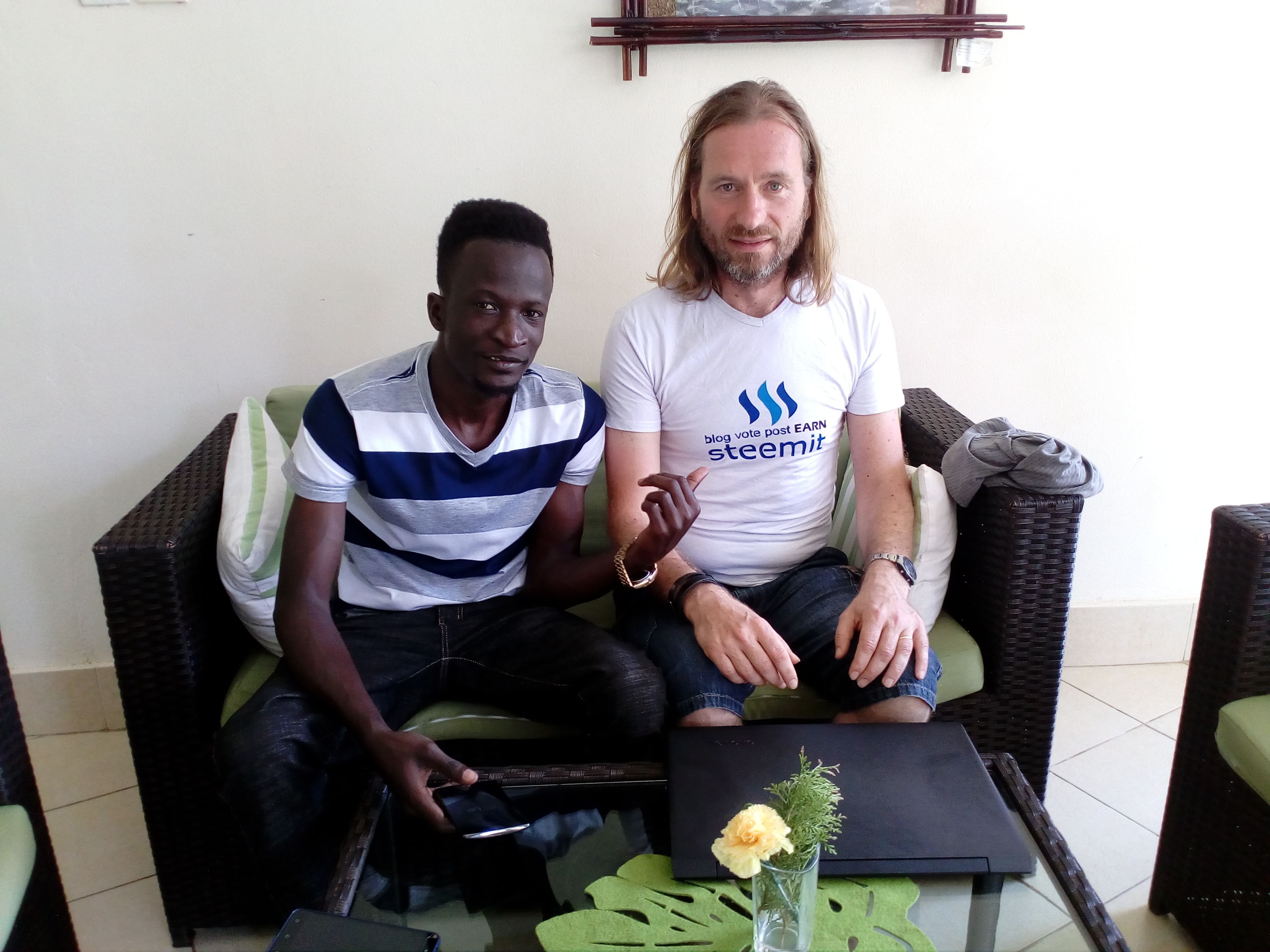 And I supported our "Team Uganda" with my first rate of 75€ (37 SBD).
But I cannot do much more from Germany to support my friends. My votes were worth 0.005 SBD, so one could not even see it in the prize-field, that I voted. I was just a minnow.
In Uganda, on our trip back from the safari, I had an inspiration (an "idea" or "call" or whatever) in my head: I should "be a whale". I have spoken about this to a friend (Jörg) on a break. Less then 10 minutes later, we drove through the village "bweyale".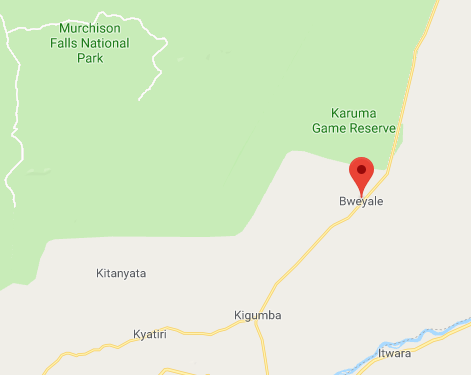 I mean, everything can happen everywhere, but some coincidents are too strange to me to be just a "coincident".
But how can I get a whale?
Then I remembered my "Deal with God" again.
Back in Germany I shifted most of my Ether into Steem and moved it to my Steemit.com account. My Steempower raised from 7 to 270 Steem. Now a full upvote is worth 8 Steemcent (depending on the exchangerate) – this is a lunch for Uganda people (at least one "rolex").
I can distribute them 10 times a day, without losing my own money.
And now I earn with my stories that much Steamdollars on Steemit, that I can pay the promised 75 € per month, without withdrawing it from my Euro-account.
God is so great. He really plays this game together with me.
But that's not all. See what happened next in:
My "Deal with God (5/5) – The neighbor of my Forest"
Regards, Achim
This is the last part of my short series about some strange coincidents which led me to some money – and what I'm supposed to do with it.
See also the previous parts:
My "Deal with God" (5/5) – The neighbor of my forest
In Part 1 – 4 I showed a lot of strange events. But the story didn't end there.
On Sunday, 22.4.2018, I got a call from my neighbor of our forest. He asked me to buy some land from me…
It is unbelievable. We fixed a prize and as soon as we go to the notar in the next weeks, I will have got (all in all) 85% of my money back, which I have invested into the forest. And I still have the main part of it.
Let me sum it up:
I had a strange dream and a hot discussion, which brought me to search for a forest at the right time.
We could buy that forest that fits to us and we could effort the prize.
I had another strange dream which helped me to reduce enormously the maintenance costs.
I got a significant amount of money for a little piece of my forest for the transformation box. Now the maintenance costs are zero.
I got a feeling how far I can poker and it worked out.
I had the feeling, that I should invest "Gods Money" into crypto currency.
I thought about "be a whale" and then I drove through the village "Bweyale"
I had the idea to invest the money into Steem and now I'm able to distribute some crypto-money to poor people and simultaneously increase my (Gods) possessions.
The neighbor of our forest wants to buy a small piece of the plot and to pay a good prize for it.
This is my "Deal with God" so far. I have drawn it to make it public what I did and what I'm supposed to do in the future: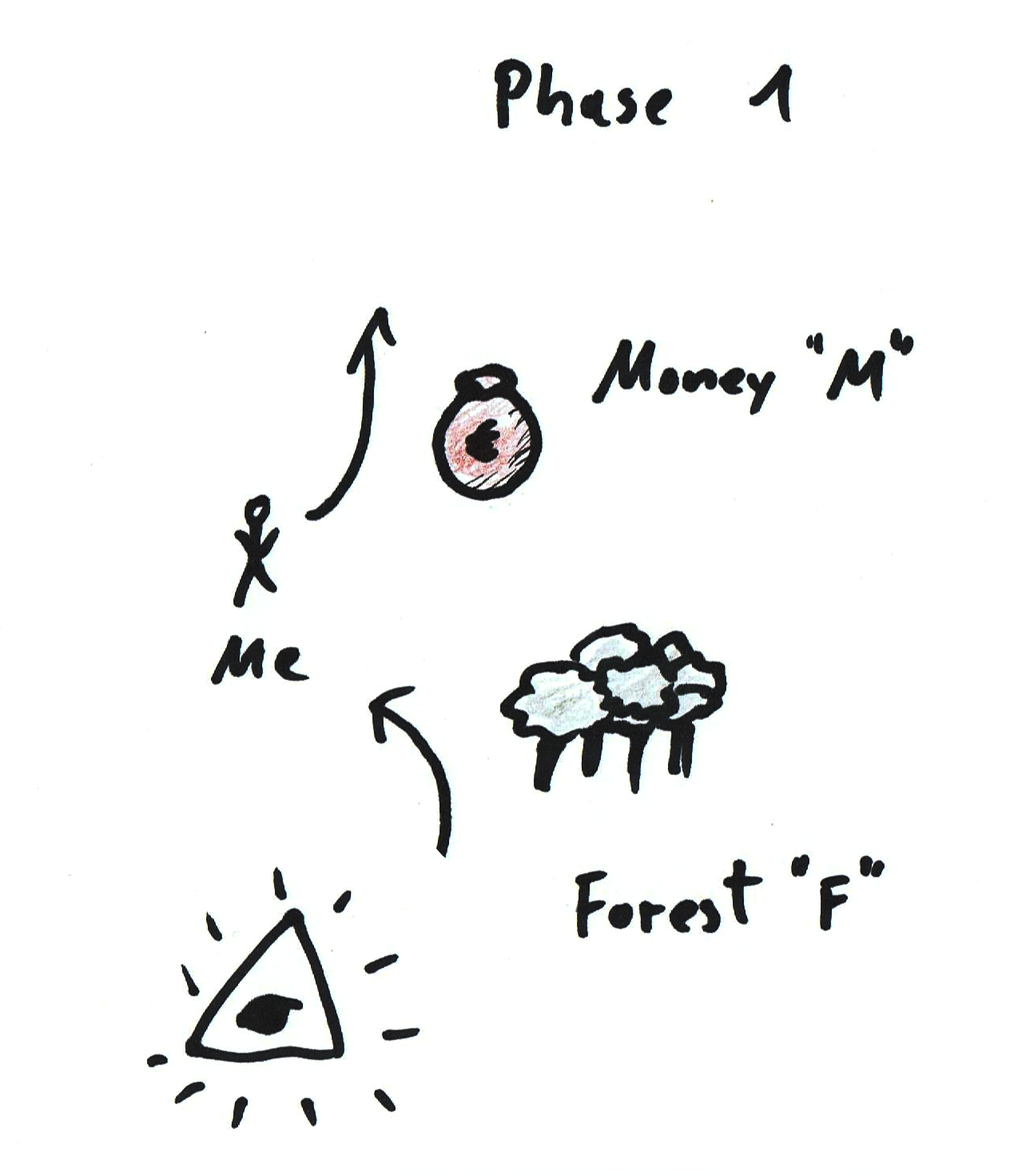 Phase 1: I have got the forest "F" and paid the amount "M" for it in 2013.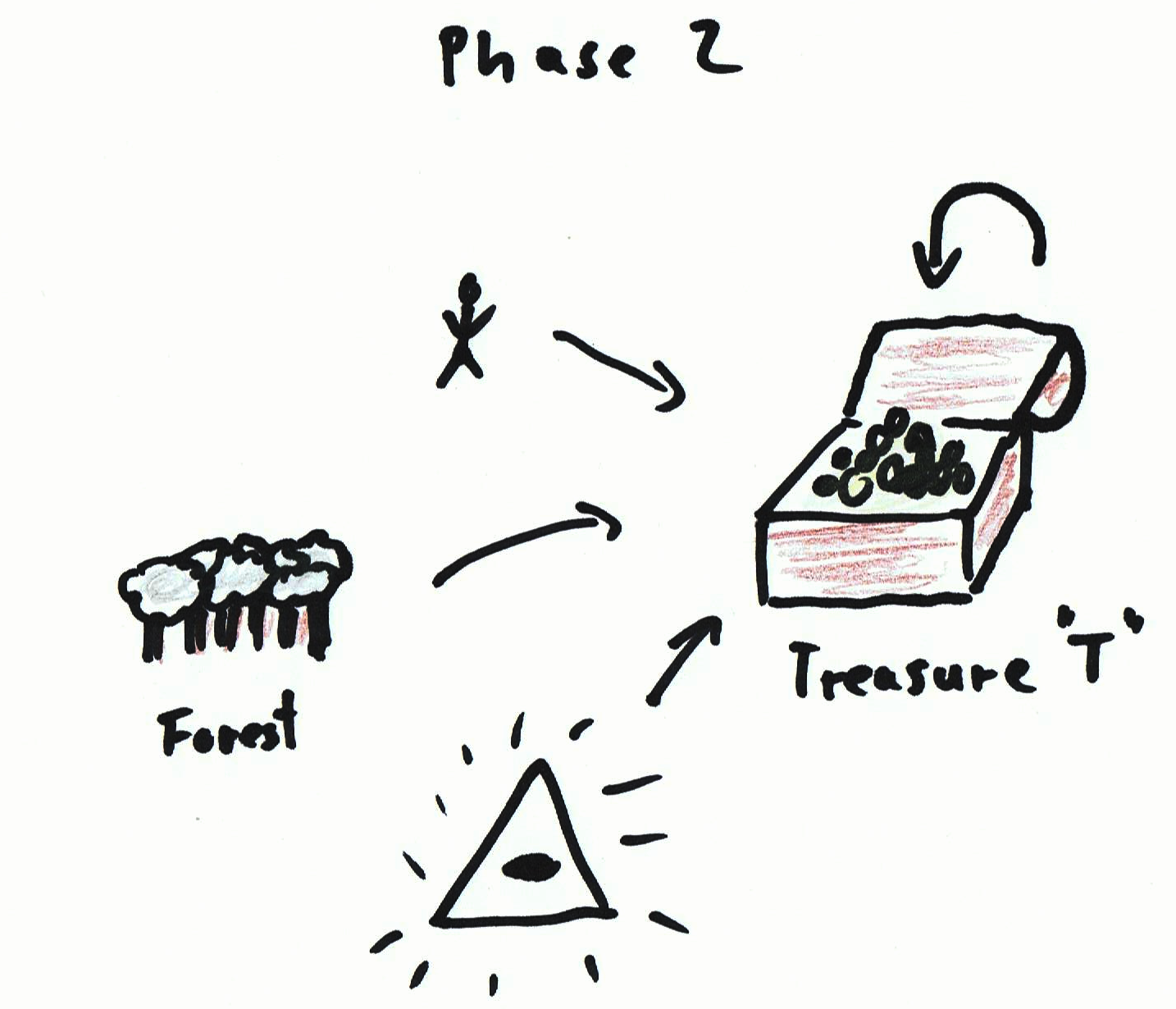 Phase 2: The Forest, God and I created further money with it. I call it the treasue "T". Now, spring 2018, T has reached 85 % of M.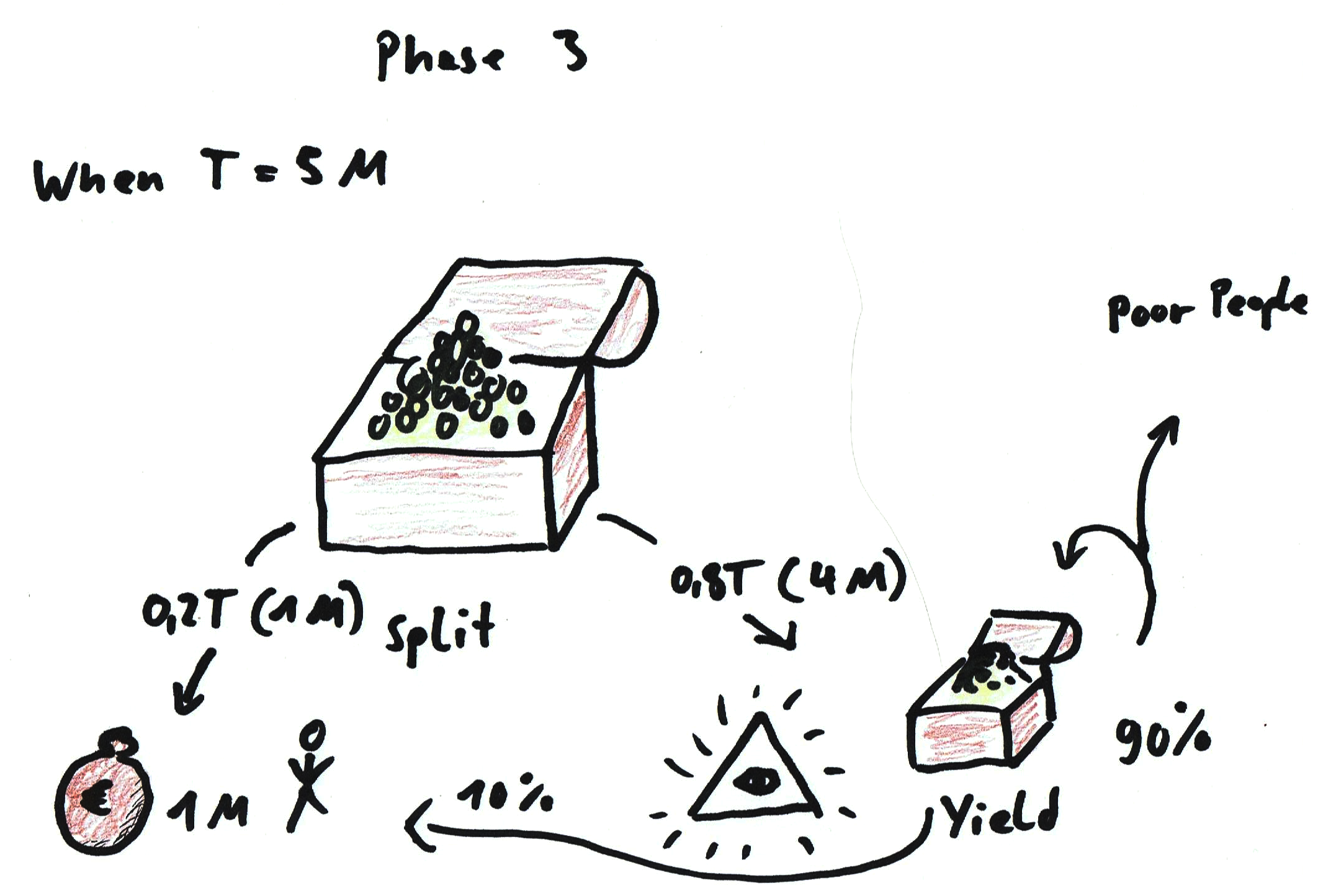 Phase 3: When T is 5 times higher than M, I'm going to split the pot (I believe in the investments I have made. The crypto-money can get this easily in the next years). The amount of M then goes back to my personal account. Then I have got the forest "for free". The other 80% (or 4 times of the money I have spent for the forest) stays in a pot somewhere (for example in Steempower). This money is used to do good things with it (for example upvoting poor people – I'm sure God will show me what to do with it). If I invest it and get money back, 90% is reinvested into Gods work and only 10% goes into my personal account.
That's the plan.
I have listed in the last five posts a lot of events in my life. Some of them depend on another, others not. Life is a very colored mixture of mosaic stones. One can lay them in a way one wants. I have put it in my way.
This whole story is true. The narrative is from me. Other people would tell this story in another way and would get other conclusions.
This is not a prove of God, it is a prove of a way living with God.
Let's see how the story goes on – I will inform you here on steemit.
Regards, Achim